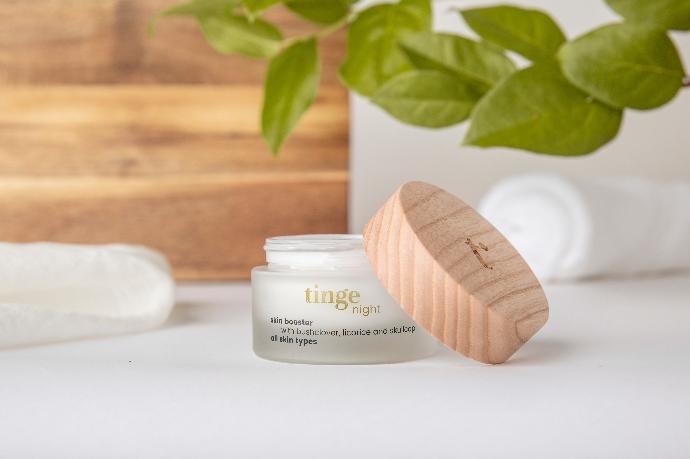 Night cream - skin booster
skin booster, with Indian clover, liquorice root and (Baikal) herbs
for all skin types


98.6 % ingredients of natural origin
46,50 € - 50 mL
This night cream is specifically designed to work while you enjoy a good night​'s sleep. Highly concentrated in stimulating and rejuvenating actives, this unique formula hydrates, regenerates and detoxifies the skin.
* Indian clover enhances skin detoxification and improves the circadian cycle disrupted by blue light. Its glycosylated flavonoids help synchronise the well-being of the skin's 'clock', deregulated by a stressful lifestyle and exposure to blue light emission from electronic screens.
* Phytoactive compounds derived from Centella, Chamomile, Liquorice, Rosemary, Baikal herb, Camellia and Japanese knotweed support the reduction of the release of pro-inflammatory agents and reduce skin irritation.

Tinge Night Cream increases cellular energy metabolism and cell activity. Restores skin clarity and radiance. Cell renewal is stimulated for a revitalising and skin boosting effect.